Phasmos is a Sorcerer class Undead dragon in the Orange egg lineage, their availability is Mythic. This dragon can be obtain on the Fall Destiny Sigil Event only.
Phasmos
Dragon Information
Class
Sorcerer
Element
Undead
Lineage
Orange
Availability
Mythic
Skills
Ice Shock, Spell Flux, Cloak, Ice Turret Resist
Breeding
Breedable at level 1
Parents



In-Game Description
Evolving Sorcerer: Evolving Sorcerer Champion
Appearance
Abilities + Stats
Ice Shock (unlock at level 1)
Spell Flux (unlock at level 2)
Cloak (unlock at level 6)
Ice Turret Resist (unlock at level 9)
For more information, see Dragon Abilities.
| Level | DPS | Health | Max Heal | XP | Food | [] Remarks |
| --- | --- | --- | --- | --- | --- | --- |
Phasmos is an evolving Sorcerer dragon who begins as an Orange Tier dragon, and can be leveled up with food and evolve stones all the way to Sapphire Tier. If you obtain the final Garnet Evolve Stone, then you will be able to evolve Phasmos to Garnet Tier upon the release of other dragons in that tier. With each evolution, Phasmos has a slight visual change and begins to glow more.
To evolve Phasmos to new tiers, players must have bred certain dragons in that color tier in order to complete the evolution. Once awarded, evolution stones have no expiration to the player.
Phasmos' maximum level is 30 with maximum attack power of 8,891,275 which can be boosted higher by completing research.
Phasmos evolve stones are exclusive only to Phasmos, and can be won through the Fall 2016 Season Destiny Sigils Event prizing tree.
Breeding
Breedable at level 1.
Gallery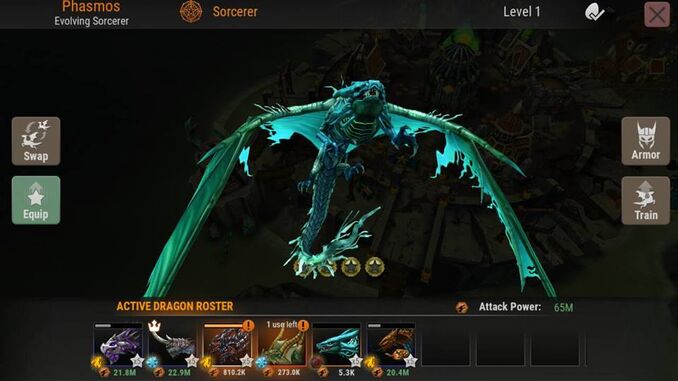 Community content is available under
CC-BY-SA
unless otherwise noted.